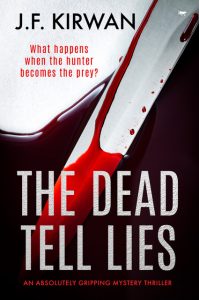 Greg Adams specialises in bringing serial killers to justice, and is at the top of his game when his wife is brutally murdered by The Dreamer. A year later, unable to bring the killer to justice, Greg is ready to end it all, when he receives a phone call from a man who tells him The Dreamer is dead, and that he didn't kill his wife.
In order to find the real killer, who begins a fresh killing spree, Greg must delve into the minds of the six terrifying psychopaths he has put away. This time he might not make it back in one piece.
And the killer has Greg in his sights…
"Fast-paced, absolutely gripping."
"Greg Adams is an unconventional detective we can invest in deeply."
"Reminded me very much of The Silence of the Lambs, in all the best ways"
The new novel from J F Kirwan – release date 15th July – in eBook & paperback, published by Bloodhound Books.
Listen to an extract from Chapter 1
---
J F Kirwan is also the author of the Nadia Laksheva thriller series for HarperCollins.
The only thing worth killing for is family.
A young woman, Nadia, coerced into working for a Russian gang, is sent to retrieve a new weapon in a daring raid in London. But it goes wrong, and soon she is the only survivor from the raid. Now the Russian mafia, MI6 and a rogue CIA agent are all tracking her down, but the weapon is lost in deep water…
'Masterfully paced…a cinematic and action-packed read that will have readers following Nadia to the ends of the Earth!' – BestThrillers.com